After several awesome weeks, our bird season has come to a close this year. We have been busy gearing up for our big game season, opening November first, for which we still have an opening.
Personally, I feel so incredibly grateful to have such an amazing family that put in a lot of time and effort to provide our clients with an excellent experience and great memories. My husband, who worked tirelessly to oversee everything (from minuscule to massive details), my father-in-law; who put on the miles to monitor birds as well as for helping me assemble my first willow blind; my mother-in-law who not only spent long nights processing birds with me, my sister-in-law and my aunt but also cleaned the lodge from top to bottom on change out days. And even though, we may not be family in the traditional sense, my 'hunting family' is owed a million thank-yous; our talented and dedicated guides, scouts made sure that our clients had great hunts. Our stomachs were VERY full with the delicious food prepared by our cook who not only makes a mean Black Forest Cake but also is truly kind and funny woman. We also had the pleasure of hunting and working with two hard-working bird dogs. It is very neat to see them zoned in and fetching up birds; they are remarkable creatures. I was able to spend more time with our clients at the lodge which was so much fun.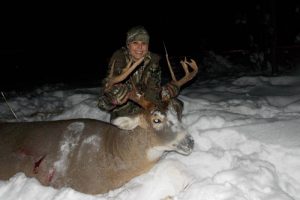 We have seen some great deer so far in the weeks leading up to the season. I am looking forward to having a freezer full of moose meat and deer sausage. However, unfortunately I am also reminded of the blatant disregard for the rules of hunting that I heard about last season from friends all over the province. In fact, there were 814 charges that were laid last year; which is mind-boggling. Of course, it is a few bad apples that ruin it for everyone and fuel the anti-hunting movement and online harassment of law abiding hunters. I sincerely hope that this year is much better for everyone. I also wish to take a moment to commend the efforts of our Fish and Wildlife Officers, this is not an easy job; they are invaluable partners. As hunters we have a duty to hunt and fish ethically by not only knowing the rules that govern our beloved hobby/sport/livelihood but to report suspicious activity. There are no excuses for not knowing the rules, they are clearly outlined in Alberta's Guide to Hunting (available online and in print); make sure you check them each and every year.
To report suspected poaching, call the toll free Report A Poacher line at 1-800-642-3800. More information on RAP is available online as well.
Happy hunting!